Multiwall Polycarbonate Roofing Sheets Service Provider
Multiwall Polycarbonate Roofing Sheets Service Provider
\
Multiwall Polycarbonate Sheets, Multiwall Polycarbonate Roofing Sheets, Multi Wall Hollow Sheets Service Provider in Mumbai, Navi Mumbai, Panvel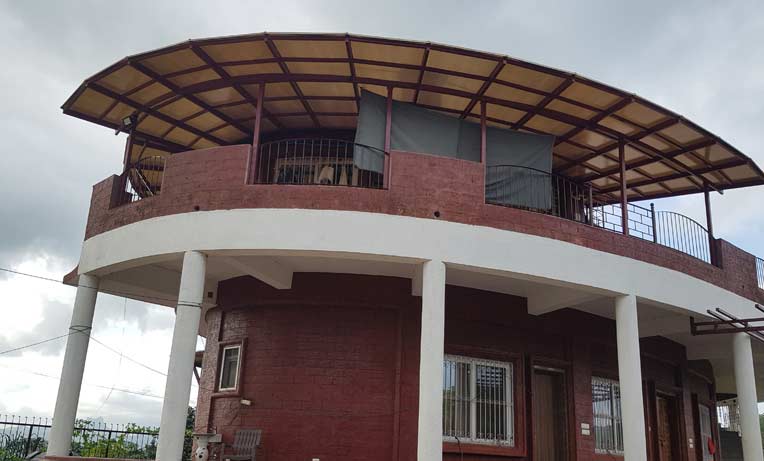 Multiwall polycarbonate roofing sheets - a durable and versatile solution for your roofing needs.

Multiwall polycarbonate roofing sheets are a modern and efficient roofing solution that offers excellent durability, versatility, and light transmission properties.

These sheets are made from a high-quality polycarbonate material, which is a type of thermoplastic renowned for its exceptional strength and impact resistance.

Multiwall polycarbonate roofing sheets are designed with multiple walls or layers that provide insulation and enhance the overall performance of the roofing system.

Benefits of Multiwall Polycarbonate Roofing Sheets

1. Durability: Multiwall polycarbonate roofing sheets are incredibly durable and can withstand extreme weather conditions, including hail, heavy rain, and snowfall. Their impact resistance is significantly higher compared to traditional roofing materials such as glass or acrylic. This durability ensures that your roof remains intact for many years, reducing the need for frequent repairs or replacements.
2. Excellent Light Transmission: Multiwall polycarbonate roofing sheets offer exceptional light transmission, allowing natural light to flood your space. The translucent nature of these sheets diffuses the sunlight, reducing glare and creating a pleasant and comfortable environment. This feature is particularly beneficial for structures such as greenhouses, skylights, sunrooms, and covered walkways.
3. Energy Efficiency: The multi-layered design of polycarbonate roofing sheets provides effective thermal insulation, which helps to regulate indoor temperature and reduce energy consumption. These sheets have excellent thermal properties, minimizing heat transfer and maintaining a comfortable environment throughout the year. As a result, you can save on heating and cooling costs while enjoying a sustainable roofing solution.
4. UV Protection: Multiwall polycarbonate roofing sheets are manufactured with built-in UV protection, preventing harmful ultraviolet rays from entering your space. This feature not only shields occupants from the damaging effects of the sun but also protects furniture, flooring, and other interior elements from fading or discoloration caused by prolonged sun exposure.
5. Lightweight and Easy Installation : Compared to traditional roofing materials, multiwall polycarbonate sheets are lightweight, making them easier to handle and install. Their flexibility allows for creative designs and easy customization, enabling architects and builders to explore innovative roofing solutions. The lightweight nature of these sheets also reduces the structural load on your build ing, providing added convenience during installation.

Applications of Multiwall Polycarbonate Sheets

1. Residential Applications: Multiwall polycarbonate roofing sheets are an excellent choice for residential buildings, including homes, cottages, and apartments.
They can be used for roofing, skylights, patio covers, carports, and pergolas. These sheets provide ample natural light, creating a bright and inviting living space while ensuring optimal energy efficiency.
2. Commercial Applications: Multiwall polycarbonate roofing sheets are widely used in commercial and industrial settings. They are ideal for applications such as warehouses, factories, shopping malls, sports facilities, and agricultural buildings. The superior strength and durability of these sheets make them suitable for areas that require impact resistance and long-lasting performance.
3. Architectural Applications: Architects and designers appreciate the versatility of multiwall polycarbonate roofing sheets for various architectural projects. From modern structures to contemporary designs, these sheets can be used to create stunning facades, atriums, canopies, and light walls. Their aesthetic appeal, combined with functional benefits, makes them a popular choice among professionals in the construction industry.

Installation Process of Multiwall Polycarbonate Roofing Sheets

Installing multiwall polycarbonate roofing sheets requires careful planning and adherence to best practices. While it's recommended to consult a professional installer, here's a general overview of the installation process :

1. Roof Preparation: Ensure that the roof surface is clean, flat, and free from any debris. Check for proper structural support and make any necessary repairs or reinforcements. Prepare the necessary tools and equipment for the installation process.
2. Measurements and Cutting: Take accurate measurements of the roofing area and mark the sheets accordingly. Use specialized cutting tools to trim the sheets to the required dimensions. Take care to avoid creating sharp edges or cracks during the cutting process.
3. Fastening and Sealing: Secure the polycarbonate sheets to the roof structure using appropriate fasteners. Follow the manufacturer's guidelines to ensure proper spacing and secure attachment. Apply sealants and weatherproofing materials to prevent leaks and ensure a watertight installation.
4. Finishing Touches: Install flashings and edge trims to provide a neat and professional finish. Pay attention to details such as proper sealing around penetrations and overlaps. Conduct a thorough inspection to ensure the installation is up to standard.
Multiwall polycarbonate roofing sheets are relatively low maintenance. Regular cleaning with mild soapy water and a soft cloth or sponge will help maintain their appearance and maximize light transmission. Avoid using abrasive cleaners or rough materials that could scratch the surface. Inspect the roof periodically for any signs of damage or wear and address any issues promptly to extend the lifespan of your roofing system.

Multiwall polycarbonate roofing sheets offer a durable, versatile, and aesthetically pleasing solution for various residential, commercial, and architectural applications. Their exceptional durability, light transmission properties, energy efficiency, and UV protection make them an attractive choice for modern roofing projects. With proper installation and maintenance, multiwall polycarbonate roofing sheets can provide a long-lasting and sustainable roofing solution that enhances the overall comfort and functionality of your space.

If you are looking for roofing professionals to ensure proper installation and to maximize the performance of your Multiwall Polycarbonate Sheets, Multiwall Polycarbonate Roofing Sheets, Multi Wall Hollow Sheets Apurva Enterprises is the best Service Provider in Thane, Mumbai, Navi Mumbai, Panvel.Contact us today to explore the possibilities for your next project.


Multiwall / Corrugated Polycarbonate Roofing System offers the excellent properties of polycarbonate in a durable corrugated structure. Its mechanical robustness, high light transmission, UV blocking, weather resistance and low weight make it superior to many alternatives. Coupled with Palram's manufacturing capabilities, Multiwall / Corrugated Polycarbonate Roofing System is ideal for almost any roofing application, stadia or pergola, rooflight or cladding.

Unlimited Profile Matching
On top of Multiwall / Corrugated Polycarbonate Roofing System 's large profile catalog, it can be matched to any given pre-existing or custom ordered corrugation profile using Palram's proprietary production technology. The service is free of charge and does not delay supply schedules.

Benefits of Multiwall / Corrugated Polycarbonate Roofing System Profile Matching

• Maintain an even and consistent roof assembly
• Simple and easy installation
• Rooflight implementation with no additional fittings
• Reduce duration and cost of the installation
• Maximum impermeability
• Maximum flexibility in new roof designs
• Maximum flexibility when matched to existing roof

Multiwall / Corrugated Polycarbonate Roofing System is currently available in over 300 known profiles. For a complete profile listing please see "Multiwall / Corrugated Polycarbonate Roofing System Rooflights Profile Catalog" available from the Multiwall / Corrugated Polycarbonate Roofing System product page on www.palram.com.

Adhesives & Sealants Compatibility

Although Multiwall / Corrugated Polycarbonate Roofing System resists the majority of widely available adhesives and sealants for roof installations, some of the products are not chemically compatible with Multiwall / Corrugated Polycarbonate Roofing System and are not allowed to be used in installations. For a complete listing please refer to "Recommended Adhesives and Sealants for Palram Polycarbonate Products", which is available as part of the Multiwall / Corrugated Polycarbonate Roofing System marketing kit or from your local distributor. The list also appears on the Palram global website (www.palram.com). Palram offers compatibility tests for specific sealing materials submitted through an authorized representative.

Weather Resistance
Multiwall / Corrugated Polycarbonate Roofing System will resist all that nature has to offer. Wind will not buckle it. Hail bounces off. Extreme temperatures will not render or brittle it.

Resistance to UV Radiation Multiwall / Corrugated Polycarbonate Roofing System is manufactured with an integrated UV resistant layer that will not separate or peel over time. Accelerated weathering tests in laboratory conditions (2000 hours QUV, equivalent of 20 year of exposure) show a negligible decrease in light transmission, and invisible increase in yellowness index.

Protection from the Harmful Effects of UV Radiation

Exposure to Ultraviolet (UV) solar radiation is a well known and major health concern. In addition to skin cancer, premature aging has been associated with exposure to UV. Multiwall / Corrugated Polycarbonate Roofing System sheets completely block out UV radiation.

A comparison of the UV protection offered by Multiwall / Corrugated Polycarbonate Roofing System and that offered by sunscreen cream 15 is depicted in the graph below. Note that no barrier is as effective as Multiwall / Corrugated Polycarbonate Roofing System sheet. Activity under Multiwall / Corrugated Polycarbonate Roofing System will be more protected than that offered by proper application of sunscreen, though the latter is sufficient in almost all cases.